Made in Canada and installed on roofs in over 50 countries on 5 continents, we produce a very realistic-looking, eco-responsible, low maintenance and long-term thatch solution that respects the beauty of traditional palm leaf roofing. In other words, Palmex helps resort managers and property owners replace thatch for the last time.
Palmex materials meet with the strictest safety standards, and with building and construction norms currently in place globally. Our leaves and accessories adapt to fit any architectural style or roofing type. Weather-proof, UV-resistant and waterproof: these are the Palmex guarantees, thanks to the high quality polyethylene and to a manufacturing and installation process that are both unique and patented.

the advantages of using palmex thatch roof :

Recyclable Guaranteed 20 years No toxic product leak

Industrial-Strength materials that reduces flammability.

100 % waterproof Snow and ice resistant

Resistance up to 160 mph (260 km/h)


More Info : Palmex Indonesia

Aloha
| | |
| --- | --- |
| Materials | Polyethylene High Density thermo-formed dengan UV Protection |
| Dimension | 100 cm x 60 cm |
| Weight | 0.7 mm |
| Color | Tobacco |
| Weight | 3.42 Kg/m2 |
| Coverage | 9 daun/m2 |
| Slope | 30o |
Rio
| | |
| --- | --- |
| Materials | Polyethylene High Density thermo-formed dengan UV Protection |
| Dimension | 100 cm x 60 cm |
| Weight | 0.7 mm |
| Color | Tobacco |
| Weight | 2.77 Kg/m2 |
| Coverage | 8 daun/m2 |
| Slope | 30o |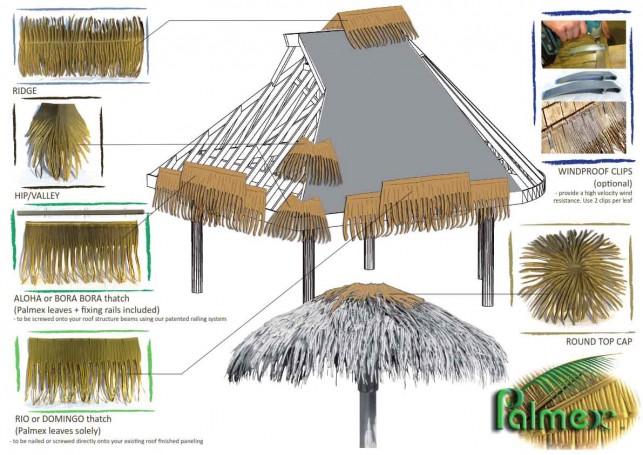 Hips and valleys: to cover external angles and valleys as well as eaves and gable ends

Linear ridges: to cover linear top of gable and hip roofs

Round ridges: to cover the top of round and square roofs

Wind clips: used in high wind and hurricane zones